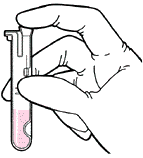 To dispense the diluted mixture, FIRST COVER THE TOP WITH GLOVED FINGER. Covering the top creates an air lock which prevents the specimen from contaminating the finger and vice versa.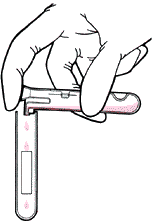 Point the spout into a test tube and gently squeeze the SEG-SAFE™. The drops are calibrated at 25 per ml (+/- 5 drops per ml).
Helpful Hints:
There is a plastic tab connected to the spout of the SEG-SAFE™. This tab helps to center the spout inside the test tube and to prevent the spout from contacting the test tube while dispensing drops.
Click

here

to order your free samples today.
If you would like to print this page, you may choose to download the Adobe Acrobat PDF file here.

You will need Adobe Acrobat Reader to view this document. To download, click here